Powder Puffs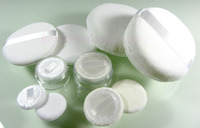 Cosmetic makeup powder puff is a must in the professional makeup artistry as well as a personal use item on a daily basis.
Face powder puffs are being used on the face to apply face powder by pressing and roll the power onto the face to set the makeup.
Body powder puffs can be used to apply body powder, glitter and shimmer powder.
Pinky puff is used by artist on their pinky while applying makeup on their clients to prevent their skin come in contact with their client's skin. Pinky puffs can also be placed inside a cosmetic jar and use as a touch up puff.