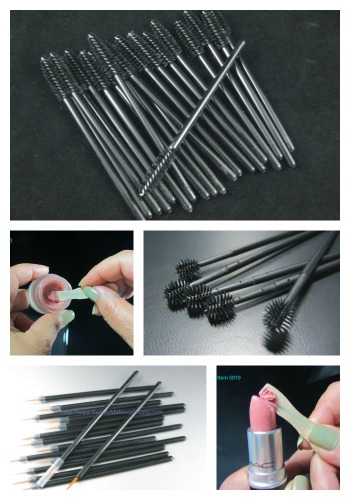 The cosmetics industry is valuable and also important to the consumers. Makeup is an everyday necessity for a large number of people across the globe. As a result, the beauty industry is always working towards generating new products that make the makeup application process simple. Over the years, there have been major developments in the disposable makeup application field. These disposable applicators are economical compared to the permanent makeup brushes. It plays an important role in a makeup artist consultation to help keeping product sanitized as well as saving time to clean the brushes in between clients.


Types of Disposable Makeup Applicators
Here are some of the various types of disposable makeup applicators available.
Disposable Eyeliner Applicators – These are fine brushes that look like the permanent eyeliner applicators. However, they are crafted to be thrown away after use, an option that is more hygienic than customary brushes. It can be used with liquid and gel liners as well as a lash growing serum applicator.
Powder Puffs – Although many people consider them a permanent feature, powder puffs can be disposable and ideal for applying makeup such as powders. Some makeup artist will elect to give the powder puffs to their clients to take home.
Disposable Mascara Wands – Another essential type of disposable makeup applicator is the mascara wands. Using a clean wand for each application will prolong the life span of a tube of mascara. It's an economical way to keep the mascara product free of germs.
Disposable Lip Brushes – These are a one-time use brushes commonly used at a makeup counter allowing customers to test lipsticks on their lips rather than just swatch on their hands. Being able to see the actual lipstick color on the lips will give customers the true evaluation of color match to skin tone.
Disposable Lip Gloss Wands – A doe foot style foam applicators used with lip gloss, liquid lipstick and lip creme. It's a must for makeup artist as well as any cosmetic studio.
Disposable Wood and Plastic Spatulas – Using a disposable wood or plastic spatula to remove products such as lipsticks, foundation sticks or any makeup products that are in a pot to keep the product free of contamination. A professional makeup artist commonly will need to remove several different colors and place them on a makeup palette to blend into the desire color.
Do I Need Both Permanent Makeup Brushes As Well As Disposable Makeup Applicators?
Permanent makeup brushes do play important roles in makeup artistry. Makeup artist will certainly tell you that a permanent makeup brush will give you control that you cannot obtain from a disposable makeup applicator. It's a good idea to have some disposable makeup applicators on hand to keep product hygienic as well as having good quality makeup brushes that will allow the flawless application. Visit www.BeautyMakeupSupply.com to find more information on disposable makeup applicators.
Recent Posts
For two days only, you can get the special deal of Buy One Get Two Free on Cosmetic Jars.SKU# 3033SK …

Makeup is an everyday necessity for millions of people worldwide. As a result, the cosmetic indust …

Despite the technological advancements, animal testing is still a problem in our world today. M …