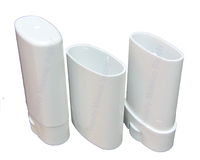 During the colder months of the year, we all find ourselves reaching for our lotions, creams, and balms to ease those rough, chapped hands, feet, and elbows. But instead of messy containers of liquids or jars of creams, have you thought about using lotion bars? This easy way to transport—and use—lotion puts relief right at your fingertips anytime you need it. And since you can make lotion bars easily at home with just a few ingredients, you'll be able to make and use lotion bars in any scent you like.
Lotion Bars Are Easy to Make
You may have seen lotion bars at high-end beauty counters as the latest must-have for beauty aficionados. But these easy-to-make bars can be crafted at home to your exact specifications with very few ingredients. Visit our Pinterest page for inspiration, or try Common Sense Homesteading's super-easy recipe, which includes equal parts of three base ingredients:
Butter: cocoa or shea
Oil: coconut, olive oil, avocado, and jojoba all work nicely
Beeswax
Melt all of your ingredients in a double boiler or in a mason jar in a saucepan of water on the stove. After everything is mixed together, add essential oils or dried herbs as desired. Pour the prepared lotion into bar molds (as used for soap) to use like a bar of soap or lotion bar tubes and dispense as you would deodorant. Either way, lotion bars are easy to make and easier to apply.
How to Use Lotion Bars
As simple to use as a bar of soap or tube of deodorant, lotion bars require no fancy application. When kept at room temperature or cooler, they are solid. Then when rubbed in warm hands or against the body, the properties begin to melt, making for easy application. Use only a light layer at first, allowing that to absorb into the skin. Apply as often as needed or desired to enjoy the benefits of your new lotion bars.
Benefits of Lotion Bars
Since homemade lotion bars are devoid of chemicals and unpronounceable ingredients, you know exactly what's going on your skin. If you choose to add coconut oil, you're automatically increasing the benefits for your body. And shea or cocoa butter both provide amazing healing properties that smell terrific as well. Add essential oils as the perfect complement for both your lotion bars and your skin. Some of the best oils for skin include carrot seed, frankincense, geranium, lavender, myrrh, neroli, patchouli, rose, tea tree or melaleuca, and ylang ylang. Dried herbs such as lavender, calendula, chamomile, and even rose petals will make your lotion bars look more appealing while adding to the healing properties.
Get Winter Skin Relief with Lotion Bars
Don't wait any longer for soft skin. Whether the winter weather has your face, hands, feet, or elbows dry and chapped, lotion bars are the perfect solution to better skin in days. So purchase your ingredients and find the right lotion bar tube for your creations. You'll have an excellent gift for friends and family as well as an end to your own winter-skin blues.