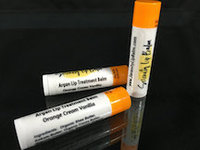 Congratulations on your commitment to making beauty products at home! By controlling your own ingredients, you know exactly what you're putting on and in your body. But creating homemade products can sometimes require finesse you didn't quite expect, as well as tools you might not have considered. And what about filling those little tubes? Filling lip balm tubes may represent one of the biggest challenges when it comes to custom-created beauty products, but we have some suggestions to make it easier for you.
Filling 1–3 Lip Balm Tubes
If you are creating a very small batch of lip balm or lipstick just for yourself, you may only be making a couple of tubes. And for that small job, the process will go a lot quicker.
Equipment you might want to use when filling just a few lip balm tubes are the tubes themselves, a small funnel, and a pipette. You can hold one tube at a time and either transfer the warm balm from the container in which you heated it into the tube via pipette, or you can pour it into the lip balm tube through a funnel. While this might be a little messy until you master the technique, it is pretty straightforward and simple to complete—especially for micro batches.
Creating a Lip Balm Tube Assembly Line
If you are filling a lot of lip balm tubes with a large batch of your creation, if you use the one-at-a-time technique, the likelihood is that your balm ingredients will start to harden before you have the opportunity to complete your task. However, if you use a lip balm tube filling tray, the job becomes a whole lot easier. Just insert your lip balm tubes into the filling tray and pour your liquid balm ingredients across the top. (It's a lot like filling an ice cube tray.) When your tubes are full, let the solution harden and then return to scrape off the extra and release the individual lip balm tubes. Now, what could have been a laborious, hair-pulling experience just got as easy as refilling your ice cube trays.
Lip Balm Recipes
Now that you have your techniques down for making small and large batches of lip balm, whatever are you going to make? Check out the Beauty Makeup Supply Pinterest page for a plethora of ideas. Remember that you can use a simple recipe, perhaps beeswax + coconut oil + shea butter + essential oils, or you can tint it with the addition of chocolate chips, beetroot powder, or various spices.
Always aim for quality ingredients in your custom-created beauty products. Organic, food-quality beeswax and shea butter are your best options, especially when making something that you may ingest, such as lip balm. After all, you're making your own beauty products to avoid those lists of ingredients you can't pronounce, so why not get the best ingredients you can?
No matter what recipe you choose or whether you make a small batch or enough to sell at the next craft fair, be sure you pair your quality ingredients with top-notch lip balm tubes to showcase your creations. Beauty Makeup Supply has a broad collection of lip balm tubes from which to choose, all of which will hold your balms in style. Clear, white, and colored tops are ready for your healthy ingredients inside and custom branding outside. And in quantities ranging from 10 to 2,000, you'll get exactly what you need. Add to that a hassle-free shopping experience with quality customer service, and you'll never look to store-bought lip balm again!